"Two reasons — Pay Back & Pay Forward! This industry has provided much to the Bruner organization and to our people. This is our opportunity to say thanks and give something back. The BX has always done an outstanding job of 'advancing' our industry by helping us improve our companies and develop our people. Looking forward, we have an obligation to secure its future so that it can meet the ever0increasing needs that our members face. Lucky for us, our predecessors stepped up to the plate 25 and 50 years ago to secure our future. Now it is our turn."
— Randy Sleeper, CEO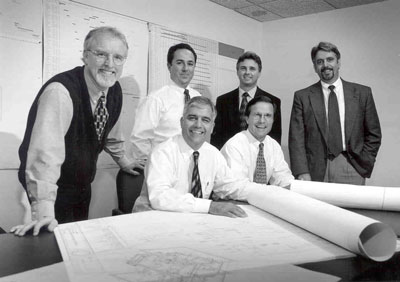 Show above (left to right): Mick Newman, Mark Brown, Gregg Stewart and John Sleeper; sitting (left to right): Randy Sleeper and Mark Wenger.
Bruner Corporation
Company Description:
Complete mechanical contracting services, specializing in design-build, HVAC, plumbing, industrial piping and service/maintenance.
Year Founded; by whom:
Historical Tidbit
Wayne Bruner founded the firm in 1958. Randy Sleeper purchased the company in 1980. At that time, the firm had three employees. Randy had been a multi-year BX scholarship recipient in the early '70s.
Website: