"We have always believed that it is our obligation to support the education, growth and continuous improvement of our industry. This dedication to our heritage is what has sustained us for 114 years."
— Kathy Niermeyer Gatterdam, general manager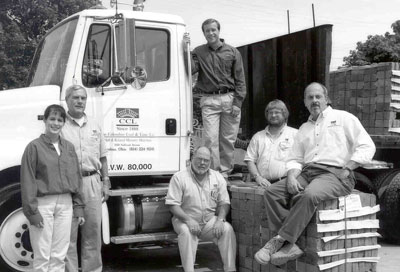 Columbus Coal & Lime — In truck: Rich Gatterdam, sales manager.
Left to right: Kathy Gatterdam, general manager; Larry Niermeyer, board chairman; Chuck Hoy, operations manager; Phil McCullough, operations manager, and Gary Buty, president.
Columbus Coal & Lime Co.
Company Description:
Brick, stone and masonry supplies, custom jack arches, concrete repair and restoration materials, specialty concrete products.
Year Founded; by whom:
1888; Carl H. Niermeyer, David Shertzer, Charles Frank and George Kraner
Historical Tidbit
As the name reflects, in 1888 CCL began selling coal and coke to residential and commercial customers, as well as lime, plaster, cement and brick. Back then, our phone number was 817. We were located downtown on South Sigh St. and our yards were under Interstate 70 where Miranova is now.
Website: