"The BX has always been a leader — developing ideas and programs that have improved the construction industry in central Ohio. Ad so, what better group than the BXF to tackle the problems that face our industry today and in the future.
A financial commitment by all BX members will give this foundation the tools to promote programs to better educate this workforce and enhance our image in this community."
— Larry Mirgon, president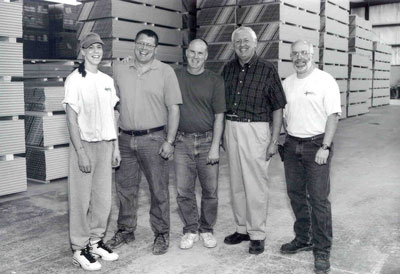 Shown above: Compass Construction, Inc. executives, from left, Lisa Carlier, estimator; Jeff Mirgon, vice president; Frank Reynolds, vice president; Larry Mirgon, president; and Kerry Dobbins, office manager.
Compass Construction
Company Description:
Light gauge metal framing, drywall, acoustic ceilings.
Year Founded; by whom:
1983; Larry Mirgon and Frank Reynolds
Website: