"We at Elford have always felt it was important to support the development of the construction industry in central Ohio.
With today's shortage of skilled personnel, it is more important than ever to have quality programming to train office and field staff. More needs to be done to encourage young people to choose the construction industry as a career field."
— Jeff Copeland, chairman/CEO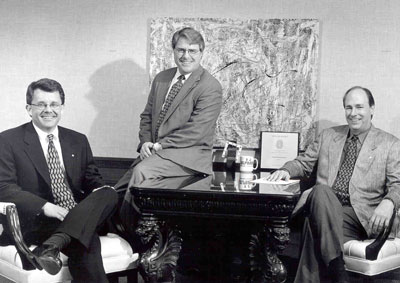 Shown above are, from left Jim Smith; president/chief operating officer, Jeff Copeland, chairman/CEO; and Thomas J. Fitzpatrick, chairman/marketing director.
Elford, Inc.
Company Description:
General contractor/construction manager.
Year Founded; by whom:
1910; Harold "Pop" Elford
Historical Tidbit:
"Pop" started the company with $153.75 in the bank. Today, 85 percent of our clients are repeat clients, some going as far back as 50 years of continuous relationship.
Website: