"We at Hamilton Parker Co. feel very strongly in supporting the community. BXF is a priority for us. It strengthens the growth of the industry. Education and development, along with improved business practices, will help us support and grow the building community for the future and further enhance the industry's image."
— Adam Lewin, president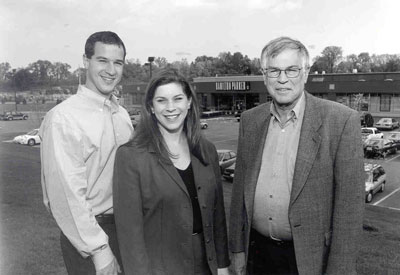 Hamilton Parker executives show above (left to right), Adam Lewin, president; Connie Tuckermann, vice president and Milton Lewin, chairman.
Hamilton Parker Co.
Company Description:
Brick, stone and masonry supplies, ceramic tile and marble, garage doors and openers, fireplaces and accessories.
Year Founded; by whom:
1934; Alvin and Gertrude Lewin
Historical Tidbit:
Hamilton Parker Fuel and Supply Co. was bought from bankruptcy by I.H. Schlezinger and Sons, Gertrude Lewin's parents. Gertrude and Alvin Lewin purchased the company from here parents in 1936. Alvin drove the truck and handled sales while Gertrue served as the accountant. Their son, Milton, expanded the lines by adding brick in 1968.
Website: