"The commercial-construction industry in central Ohio is a vibrant part of the community. We develop the space, facilities, pieces and parts that become our environment and our future. The employees of Inside Outfitters, Inc., are proud to be part of this industry that has had a dramatic impact on everyone who lives in or visits our community.
As an involved member of the construction community, we are obligated to contribute to the future of our industry. The construction industry's image has been improving, but there is still more work to be done through venues such as the Builders Exchange Foundation."
— Dennis J. Hoffer, President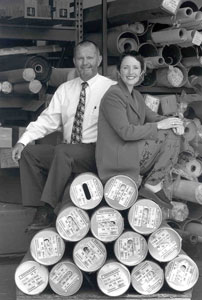 Pictured above are Dennis Hoffer, Inside Outfitters president, and Marti Hoffer, vice president.
Inside Outfitters, Inc. (now Lumenomics, Inc.)
Company Description:
Manufacturer and installer of commercial window coverings.
Year Founded; by whom:
Historical Tidbit:
On Aug. 4, 1987, the company was granted its first patent for a motorized shading system. In September 1987, a second patent was granted for a manually operated system.
Website: