"As Paul Peterson Company starts its third generation, we feel it's important to continue to support the programs that support our industry. The Builders Exchange Foundation will provide the support tomorrow's workforce needs through education and association."
— Parr Peterson, vice president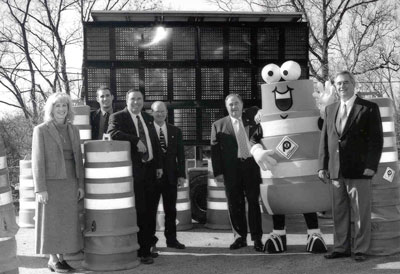 Paul Peterson Co. executives shown above (left to right): Colette Peterson, Aaron Peterson, Parr Peterson, Gary Boylan, Paul Peterson, "The Barrel Guy" and John Peterson.
Paul Peterson Co.
Company Description:
Specialty contractor in fencing, traffic safety products, traffic signs, highway guardrail and bridge deck waterproofing.
Year Founded; by whom:
1932; Paul B. Peterson, Sr.
Historical Tidbit:
We introduced the "orange barrel" in Ohio, and we are the oldest guardrail contractor in Ohio.
Website: