"We have a difficult time placing specific priority on just one of the BXF focus areas. We strongly believe that they are all crucial to the enhancement of our industry."
— W. Mac Ware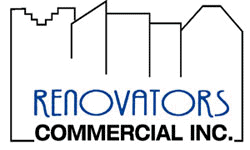 Renovators Commercial, Inc.
Company Description:
General contractors/construction managers.
Year Founded; by whom:
1994; W. Mac Ware and Mark L. Shy
Historical Tidbit
The co-founders of Renovators met at a BX function years ago. We also recognize that it was our relationships with subcontractors and suppliers that assisted us when we first opened our doors.