"We at Ruscilli Construction Company feel the endowment is simply just a good investment. It ensures that expanded educational programs will always be available to our associates in the future.
We want to guarantee that our fourth generation will have the same educational opportunities afforded o me as a young man when I took estimating and surveying classes at the BX back in 1967. I was good then and even better today. It was an easy decision to place our investment in the hands of the BX in this visionary venture. The BX has continually raised the bar of excellence in our industry and we at Ruscilli want to keep it that way."
— L. Jack Ruscilli, CEO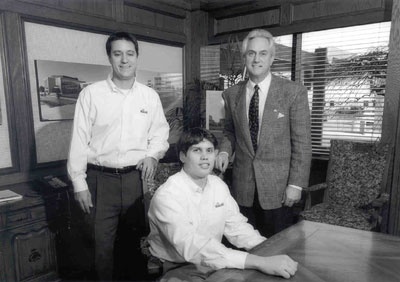 Shown above (left to right): Tony Ruscilli, Lou Ruscilli (seated), and Jack Ruscilli.
Ruscilli Construction Co., Inc.
Company Description:
Construction management and general construction firm specializing in commercial industrial and educational clientele.
Year Founded; by whom:
Website: