"Team Fishel is extremely proud to be in the construction industry and especially proud to be a part of the central Ohio community. Team Fishel works hard at improving the industry and community in which we have built our home. By participating in the Builders Exchange Foundation, we believe our support of the Builders Exchange efforts will enhance the quality of our workforce, services and perceptions of the construction industry in central Ohio."
— Craig Mathes, Human Resources Director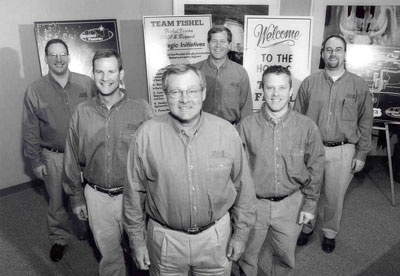 Shown above are The Fishel Company executives (left to right): Paul Riewe, vice president and CFO; Greg Grabovac, vice president and general counsel; Eric Smith, president; Scott Homberger, vice persident; Craig Mathes, HR director and Rick Keeler, marketing director.
The Fishel Company
Company Description:
Design, build and maintain energy and information systems for the gas, electric, telephone and broadband cable TV industries. We also design and install copper and fiber optic networks for voice, video and data applications.
Year Founded; by whom:
Historical Tidbit:
Ken Fishel founded the company of $400 worth of White Motor stock. Once formed, the company prospered, making $7,000 in its first five months. But the summer of 1937 brought hard times, and in 1938 the company went broke. "I knew the business was there, and I didn't want to do anything else, so I tried again," Ken later recalled.
Website: